A viola mute is a small accessory, usually made of rubber, that attaches to the bridge of a viola and "mutes" the viola by dampening the higher notes. This makes the sound much more mellow than usual. Below we'll discuss the best viola mutes you can buy.
Mutes are used throughout many classical pieces and places where mutes are required are usually notated with a "con sordino" or "con sord." for short which means "on mute." When a mute needs to be removed, the music will state "senza sordino" which means "off mute."
Composers through the ages have used mutes to add texture to their pieces. Prokofiev requires the use of a mute by all string instruments at the beginning of his piece Romeo and Juliet. You can hear the opening in the video below:
Mutes come in a variety of styles as we'll outline below. Before you choose your mute, there are some things you should consider:
Ease of use: Being able to put the viola mute on and remove it quickly during concerts is vital so you need to choose the mute that will be easiest for you to use. There are two main types of mutes: sliding and over-the-bridge. Sliding mutes are extremely to put on and take off, though they don't provide as much dampening. Over-the-bridge mutes require a little more effort to put on, but not a significant amount.
Look and Feel: It's important to pick a viola mute that will complement the overall appearance of your viola. Mutes come in a variety of colors and styles, so make sure you pick one that you're happy with.
Sound: While every mute will change the way your viola sounds, you need to make sure it doesn't adversely affect the overall sound. If you don't like the way your viola sounds after you've tried a new mute, send it back and try another one. Don't settle for any mute just because it works.
Below we cover six of the various viola mute types. If you're uncomfortable buying a viola mute online or want to test out the sound before you buy, try going to your local music shop. They're guaranteed to have several viola mutes available that you can try in-store with your viola.
Tourte Shaped Viola Mute
">
This is the most popular mute used for solo and orchestral playing due to both its quality sound, low cost, and extreme ease-of-use. You can find many tourte viola mutes for less than $10 and there's even a viola mute on Amazon for 99 cents! The shape of the mute doesn't fully dampen your viola's sound, so that makes this mute a great option for orchestral settings. This is definitely one of the best viola mutes as it sounds great and is really inexpensive.
Tourte shaped mutes are made out of rubber, so they won't harm your instrument, and they have a single pull-tab that you use to get them onto the bridge. When not in use, the mute is near the tailpiece, hooked on to the D or G string.
Tourte Round Viola Mute
">
Nearly as popular as the shaped tourte mute above, the round tourte mute is also made of rubber and sits on two strings (D+G) instead of one. It is frequently used in orchestras since it is easy to put on while playing. When not in use, the mute is near the tailpiece, hooked on to the D or G string.
Wire Slide-On Viola Mute
">
This style of mute is simply the easiest viola mute to put on. All you need to do is swipe a spare finger behind it and you're viola is muted! This is actually the kind of mute I use on my own instrument.
This style of mute dampens the viola's sound even less than the tourte mutes above, but makes up for that fact due to the ease-of-use. The limited dampening and quick application make this style of mute ideal for orchestra players and we'd definitely like to see this mute become more popular among players.
The mute is made mostly of wire that wraps around your strings and a little rubber cover that connects with your bridge to dampen. Because the wire touches the string directly, you need to make sure that you aren't too aggressive while sliding or else you may damage your strings prematurely.
Metal Practice Mute
">
This is a great mute to use when you don't want to disturb your neighbors or roommates while practicing. Since it is made of metal and quite heavy, you get a very muted sound, but still get a clear tone.
If you plan on practicing late at night, this mute is a must.
Ultra USA Rubber Viola Mute
Another great practice mute, the Ultra USA mute is made of solid rubber and thoroughly dampens your viola's sound so that you do not disturb your neighbors. Since the sound is so dampened, this mute is not ideal in performance settings and unlike most of the mutes above, you can't keep the mute on the instrument when the mute is not being used.
Finissima Viola Mute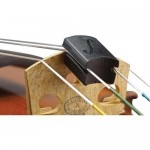 This mute adds a whole different tone to your viola. Since it is made of plastic instead of rubber or metal like the other viola mutes on this list, the sound is a lot smoother and higher quality.
While originally created as a violin mute, the Finissima mute can be used on a viola as well. It sits near the tailpiece until ready to use, then slides easily over the bridge. Try one out and see if it works with your viola!
Not every mute on this list will suit your viola, so you may want to try several. Every violist needs at least one mute to properly play in an orchestra, so make sure to always keep one in your case.
If you want to make more friends in orchestra, try keeping a few spare mutes in your case as well. I've played in many orchestras where fellow violists have forgotten or don't even own a mute! If anything, you'll be glad you have extras in case (pun intended) you lose one.